VB Guitar Amp Enclosures
Get the tone!
We know that sometimes you need to crank-up the volume to get the tone you're looking for. Unfortunately, not everyone else understands... That's why we designed the new VB Amp Box. Quick and easy assembly requires no tools- and it is portable enough to take to a gig. Quiet fan technology ensures your amp stays cool without introducing noise. Split lid for quick access to knobs and easy front and back access for adjusting mics and swapping out amps. Top recording studios and large house-of-worship centers have found this the perfect solution for controlling excess guitar noise. So turn up and let your amp sing like it was made to.
Starting at $795 + shipping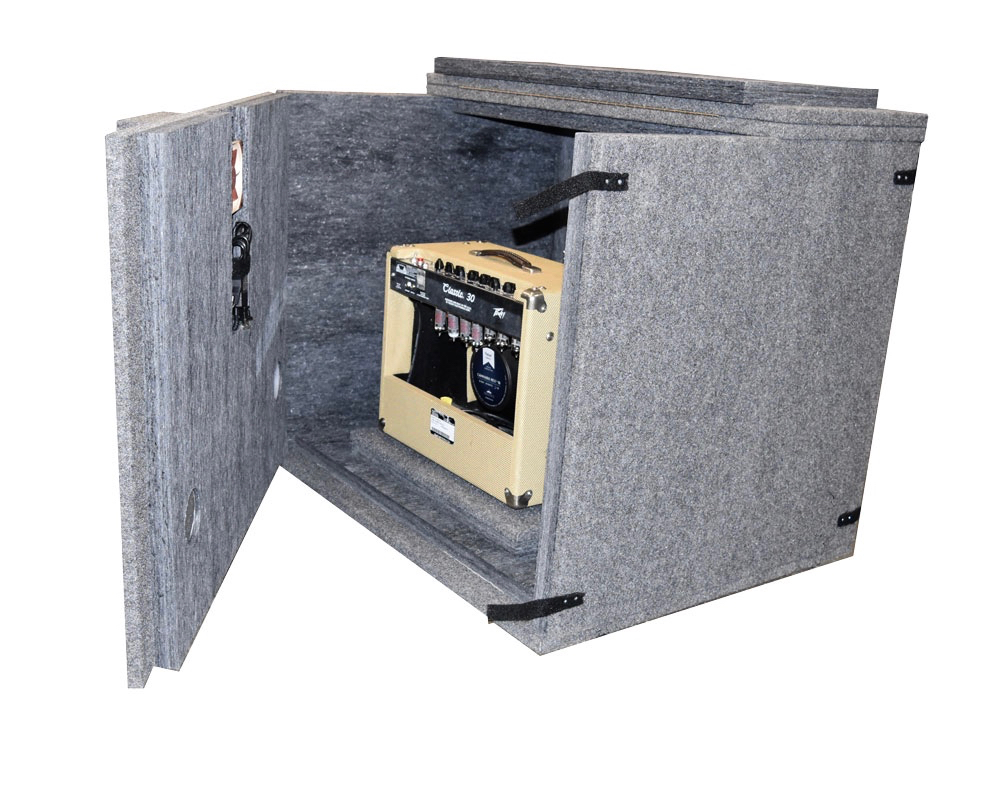 VB Studio Box
Full floor and vent mufflers - higher level of isolation.
$995 + shipping
Includes:
Vent Muffler System

Full Size, Isolating Floor

Quiet Ventilation System

Cable Passage Ports

Quick Access Split Lid

Executive Gray Fabric Exterior

Gray Foam Interior

VB Iso Pad

Caster Wheel Base (+$95)

Converts easily to the VB Stage Box
VB Stage Box
For easy assembly and transport. Ideal for stage use.
$795 + shipping
Includes:
Quiet Ventilation System

Cable Passage Ports

Quick Access Split Lid

Executive Gray Fabric Exte rior

Gray Foam Interior

VB Iso Pad
VB Stage Box (no floor or vent covers) Decibel Reduction Specs* (Accurate to +/- 3dB)
Frequency ( Hertz ) 125 200 500 1,000 2,000 4,000
Reduction ( dB ) 16 20 35 35 44 47
VB Studio Box (with floor and vent covers) Decibel Reduction Specs* (Accurate to +/- 3dB)
Frequency ( Hertz ) 125 200 500 1,000 2,000 4,000
Reduction ( dB ) 21 25 35 40 51 54
*VocalBooth offers the highest level of sound reduction in the industry. Some competitors use impractical testing methods to inflate their sound reduction numbers. In direct on-site comparisons VocalBooth outperforms (reduces sound) more effectively than any other maker of a similar product - Click here to see how we test
VB Stage Box (VB Iso Pad, no floor)
Interior: 36" Wide, 28" Long, 27" Deep (to VB Iso Pad)
VB Studio Box (full floor + VB Iso Pad)
Interior: 36" Wide, 28" Long, 25" Deep (to VB Iso Pad)