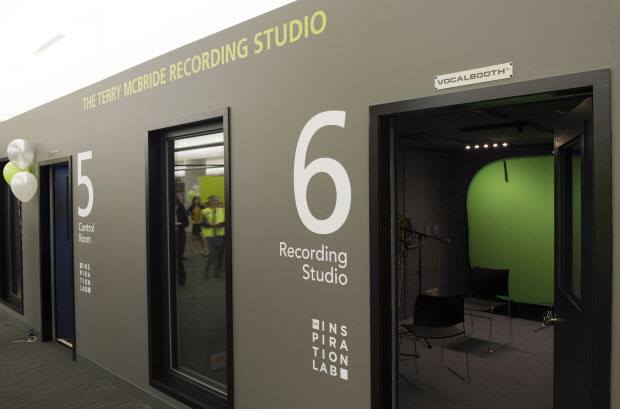 for Institutions and Commercial
For over 20 years we have been helping engineers and architects design spaces for education, public buildings, testing, manufacturing, and more. If one of our standard modular booths does not fit your needs, we are happy to help design a custom solution.
Common Questions from designers
Power Requirements
There are no special power requirements. Our components are UL Listed, and so energy efficient that an entire booth can be run from a single power strip.
Seismic
Our VocalBooths are seismic-ready. We can include an anchoring system and structural engineering.
Permits
VocalBooths classify as "modular, portable furniture." They do not usually require a building permit. Be sure to check your local regulations.
Fire Suppression
Though a large part of our VocalBooth is made from Class A rated materials, a Fire Marshall may require a fire sprinkler to be installed. We can provide a port in the ceiling, ready for your mechanical contractor to install a sprinkler.
VocalBooth Series
Ordering Process
1) Choose your VocalBooth Select the series of VocalBooth you will need, from above. Find the "Request a Quote" button. Select your size, colors, and other options.
2) Get a Quote: A VocalBooth Sales Rep will review your request, answer any questions, possibly make suggestions, and return a final price (no hidden fees, taxes, or shipping.)
3) Production: once everything looks just right for you, your VocalBooth is put into production. It is completely assembled to ensure a tight seal and excellent quality.
4) Shipping: a freight truck will deliver your crate. If you do not have a loading dock, you will simply need to remove the panels from the truck.
We are always glad to help you through this process and answer any questions, If you'd like to speak with someone, feel free to call us: 541-330-6045
Other Common Questions
Assembly
Assembly requires only a powered screwdriver, with a Philips head bit. No special tools, gluing, or drilling is required.
Modular
Panels are interchangeable so that you can easily rearrange the layout of your booth. The size of your VocalBooth can also be expanded or reduced, should your needs change in the future.
Sizing
VocalBooth specializes in customization, ensuring a size that fits your space. We start at a 4'x4' and go up to a 16'x32', in 1' increments. Custom ceiling heights are available. Since our booths can be constructed from the inside-out, there is no need to leave empty space around the booth. For help, look at our VocalBooth Sizing.
The Diamond Series is available in four sizes, however limited customization is also available.
Ventilation
You need to stay cool while recording, and VocalBooth has the best ventilation in the industry. Silent fans ensure no noise gets introduced into your recordings. This also eliminates the need for remote controls, as the fan can operate the entire time you record. All of our systems are outfitted with high-flow fans and insulated ducting. Leave about 1' of space clear for your ventilation on a side or ceiling. We can include adaptors to connect to existing HVAC systems.
Colors
Make a space that inspires you! We offer nearly endless color combinations for your booth, including 12 colors of pyramid studio foam.
Lighting
Warm LED lights are included, at no additional cost. If you want to spice-up your space, we also offer color-changing light panels with remote controls.
Cable Passage Ports
We provide 3" pass through ports for all of your audio and electrical. Special jack panels are available.
Shipping
We pay the freight! Free standard shipping to the 48 US and parts of Canada. Your booth is carefully packed into a custom built crate. If you do not have a loading dock, you will simply need to board the truck and remove the panels. Want a turnkey solution? Inside delivery and installation is available.
Here is a list of more Frequently Asked Questions
Please feel free to contact us for help.